http://feedproxy.google.com/~r/ImprobableResearch/~3/P-GrIhuc_Q4/
http://www.improbable.com/?p=51474
A further finding about side effects of coffee (chapter the three-thousandth-after-next):
"Carbon Monoxide From Domestic Coffee Roasting: A Case Report," Joel B. Raffel and Joanne Thompson, Annals of Internal Medicine, vol. 159, no. 11, December 3, 2013. The authors are at Imperial College London.
BONUS: Coffee and convenience store workers and air pollution and lots of other stuff, all together
Originally published at Lawrence M. Schoen. You can comment here or there.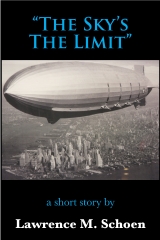 I meant to do this a couple days ago, but… Life.
So, I'll do it today instead. Tuesday (i.e., two days ago) marked the anniversary of the death of Damon Runyon, newspaperman, short story author, and (as I recently learned) one of the architects of modern roller derby.
Runyon wrote about New York's Broadway. He died in New York, but he was born in Manhattan, Kansas (i.e., the "little Apple").
When I was in high school, the drama department put on a production of Guys & Dolls, and I've had his characters' voices running around in my head ever since. Eventually, this led me to write a pastiche, "The Sky's The Limit," which was published in All Star Zeppelin Adventure Stories.
I recently installed a "Contact Me" option on my website. As my way of paying respect to Damon Runyon, if you "contact me" in this way and include your email address and the format you need (ePub or mobi), I will send you an ebook of the story. The offer expires Sunday night, December 15th.
http://feedproxy.google.com/~r/ImprobableResearch/~3/WQBa_E4Fel8/
http://www.improbable.com/?p=51528
This economics study suggests that allowing foreigners to work as sumo wrestlers has been detrimental to the quality of native wrestlers' wrestling:
"Is body mass human capital in sumo? Outcome of globalization and formation of human capital in Japan," Eiji Yamamura, Journal of the Japanese and International Economies, epub November 22, 2013. The author, at Seinan Gakuin University, Fukuoka, Japan, explains:

"Using a data set for all sumo wrestlers in the post-World War II period, this paper investigates how wrestlers' body mass index (BMI) is associated with their win rate and absence rate. Further, the effect of BMI is compared between an early period (before the emergence of foreign wrestlers) and later period (after the emergence of foreign wrestlers). After accounting for endogenous bias using instrumental variables, the key findings are that (1) there is no positive relationship between the BMI and win rate in either the early or later period and (2) there is a positive relationship between the BMI and absence rate in the later period but not in the early period. From the findings in this paper, I make the argument that an increase in the number of immigrants with human capital different from that of domestic labor leads the domestic labor to obtain human capital that does not match its characteristics, thereby reducing its performance."
Here's detail from the study:
(Thanks to Hiroshi Gunji for bringing this to our attention.)
BONUS: By the same author:
"Externality of young children on parents' watching of anime: Evidence from Japanese micro data," Eiji Yamamura, MPRA Paper 46878, 2013. The author reports that:

"it was found that people are more likely to watch anime when they have children aged less than 12 years."
on my tumblr
, blogging Homestuck with a side order of kink acceptance and mental health awareness. (Sometimes on Flight Rising, which is a pixel dragon petsite and enormously addictive, as amberite.) On testosterone again. Haven't figured out what the fuck to do with my life remotely at all whatsoever. Still love you guys.
That is all.
Mostly
http://feedproxy.google.com/~r/ImprobableResearch/~3/x7vQoVOT0fs/
http://www.improbable.com/?p=51469
Medical researchers, seeking insight, sometimes try to make simple sense of complex, difficult conglomerations of things that may or may not have effects on each other and on many other things. Sometimes coffee is involved, as is the case here:
"Indoor Air Pollution, Nighttime Heart Rate Variability and Coffee Consumption among Convenient Store Workers," Kai-Jen Chuang, Hsiao-Chi Chuang, Lian-Yu Lin, PLoS One, 2013 Aug 15;8(8):e63320. The authors, at Taipei Medical University, report:

"The aim of this study was to investigate the association of HRV [heart rate variability] indices with indoor air pollution, working time and coffee consumption…. We recruited 60 young healthy convenient store workers to monitor indoor PM2.5 (particulate matter with an aerodynamic diameter ≤ 2.5 µm) exposures, coffee consumption (yes vs. no) and HRV indices during daytime (0700-1500 hours) and nighttime (2300-0700 hours)….

"CONCLUSIONS: …The effect of indoor PM2.5 on HRV indices may be modified by coffee consumption in young healthy convenient store workers."
BONUS: Correlation is not causation, or so they say, some of them, sometimes.
http://feedproxy.google.com/~r/ImprobableResearch/~3/MYbVaGB7Bf4/
http://www.improbable.com/?p=50594
A good number of people would probably find walking across a tightrope or slackline a decidedly non-trivial task. If it helps, assistance is at hand in the form of a comprehensive mathematical analysis which looks not only at the effect of the human on the rope, but also the rope on the human – in four dimensions.
See: 'Balancing on tightropes and slacklines' Journal of the Royal Society, Interface (2012) 9, 2097–2108. A joint investigation by Dr. Paolo. Paoletti (now at Centre for Engineering Dynamics, School of Engineering, University of Liverpool), along with L. Mahadevan (Lola England de Valpine Professor of Applied Mathematics, Professor of Organismic and Evolutionary Biology, and Professor of Physics, at the Department of Organismic and Evolutionary Biology, and Wyss Institute for Bioinspired Engineering, Harvard University, Cambridge US.) [The professor was co-recipient of the 2007 Ig Nobel physics prize for studying how sheets become wrinkled.]
"Our analysis of the open and closed-loop dynamics shows the existence of an optimal rope sag where balancing requires minimal effort, consistent with qualitative observations and suggestive of strategies for optimizing balancing performance while standing and walking."
Improbable Clarification : A tightrope is a slackline that's too tight, and a slackline is a tightrope that's gone loose.
Also see, related, but bigger : Lateral excitation of bridges by balancing pedestrians. Proc. R. Soc. A 8 April 2009 vol. 465 no. 2104  pp. 1055-1073
http://feedproxy.google.com/~r/ImprobableResearch/~3/lFy0h-4Z6SI/
http://www.improbable.com/?p=51591
Last night two of our editors were in the audience of a special event at the Coolidge Corner Cinema. Afterwards, one of them wrote (on Facebook) this appraisal:
Last night, we went to a screening of "Who Framed Roger Rabbit?" The movie was preceded by a talk by Melissa Franklin, chair of the Harvard Physics department and one of the discoverers of the Higgs boson. Dr. Franklin talked for about 20 minutes on the physics of cartoons, and the role of cartooning in physics. She was as funny as a professional comedian.  She's like Ellen Degeneres with an IQ of two thousand.

You just don't GET that kind of entertainment in every city, folks.
Here's a scene from the movie:
BONUS: Mark O'Donnell's list, originally published in Esquire magazine, of "The Cartoon Laws of Physics". In her talk, Professor Franklin lauded the robust subtleties of these laws.
I had an epiphany that my views on gender are very similar to my views on religion, especially theistic religions. I really hate both and would love to live in a world without either. However, I realize that both gender and religious identification are very important to many people, and it would be wrong of me to impose my views on them. Therefore I respect people identifying with whatever gender or religion they wish, as long as they respect my wishes to not identify with any of them.
http://feedproxy.google.com/~r/ImprobableResearch/~3/umB6vlkRGcs/
http://www.improbable.com/?p=51556
A photo of an American flag has power over the minds of men and women, implies this study:
"A Single Exposure to the American Flag Shifts Support Toward Republicanism up to 8 Months Later," Travis J. Carter [pictured here], Melissa J. Ferguson and Ran R. Hassin, Psychological Science, 2011 22: 1011. The authors at the University of Chicago, Cornell University, and Hebrew University, explain:

"396 participants were recruited through advertising in online social-networking sites (e.g., Facebook.com) to participate in an online survey in exchange for a $10 Amazon.com gift certificate…. For participants in the control condition, there was nothing in the corner of the survey (to view the survey, see Experimental Manipulations in the Supplemental Material). Except for this single presentation of the American flag on this particular survey, the procedure and materials in all sessions were identical for all participants…. Our results also demonstrate that a single exposure to a national flag can have wide-ranging effects. "
The American Psychological Association, which publishes the journal Psychological Science, issued a press release about it, with the headline "Sneaky Stars and Stripes" and the flag photo you see here.
BONUS: Dr. Carter also published a solo essay, in Psychology Today, with the headline "Despite What You Might Have Heard, Psychology is Science", as we mentioned by way of giving context to a previous blog item.
UPDATE: Rolf Zwaan says "This finding has recently been massively non-replicated, as I describe here."
http://feedproxy.google.com/~r/ImprobableResearch/~3/zwYOnX-hX1Q/
http://www.improbable.com/?p=51570
Brenda Hassett has joined the Luxuriant Flowing Hair Club for Scientists (LFHCfS). LFHCfS member Tharin Blumenschein, who nominated her, says:
My friend Brenna Hassett posted this photo on Facebook, while admitting: "I have big hair". It  is proof of her luxuriant, flowing hair. She's a postdoc at the Natural History Museum, in London. Her professional details can be found in her professional page, with her hair carefully disguised.
Brenna Hassett, Pd.D., LFHCfS
Postdoc
Earth Sciences Department
Vertebrates and Anthropology Palaeobiology
Natural History Museum
London, UK